Norwalk Cove – Your Gateway to Long Island Sound
By Staff
June 24, 2020

6:18 pm
Since 1936, Norwalk Cove Marina has been reeling in boating enthusiasts to Fairfield County's picturesque waterfront for fun in the sun and on the water.
Thanks to the founding Gardella Family's love of boating, the marina, overlooking the gorgeous Norwalk Harbor, recently added a brand new restaurant into the mix.
The Galley Waterfront Grill is the latest addition to compliment the marina's many amenities on site, including mini golf, cafe and nautical boutique, packed to the gills with unique gifts.
The Gardella Family is certain The Galley is destined to become one of Norwalk's best kept secrets, offering three-season waterfront dining. Diners can enjoy the ever-changing scenery and waterfront activity while savoring delicious breakfast and lunch specialties.
The menu is sure to reel in transient boaters, hungry mini golfers or visitors browsing the ship's store. Breakfast entrees, named after popular boat brands, include the "Formula" (bacon, egg & cheese) and the "Pursuit" (sausage, egg & cheese) on a hard roll.
Island hopping has never been more fun for lunch, where entrees named after popular Norwalk Islands, include the "Calf Pasture," chicken cutlet tossed in buffalo sauce w/ranch/blue cheese and crispy bacon, and the "Sherwood," roast beef, Munster cheese, carmelized onions, garlic aioli, arugula on sourdough bread. The "Cockenoe" with prosciutto, goat cheese, arugula, jalapeno jam and balsamic glaze on focaccia bread will surely float your boat.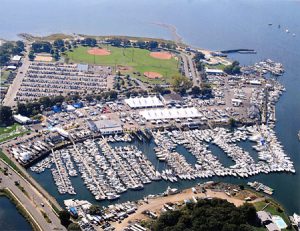 The marina's history dates back to 1936 when Louis J. Gardella founded Rex Marine Sales, and was hoping to get a great deal on a Chris Craft boat for himself by buying it wholesale. He quickly learned how popular boating was, and left behind his trucking company and terminal on the Post Road, purchasing the Pier Restaurant and adjacent waterfront properties to establish the Rex Marine Center.
An astute businessman and visionary, Gardella expanded the operation across the harbor, which became Norwalk Cove Marina. His sons ultimately came onboard, expanding the two businesses, where today they continue to prosper under management of third and fourth generation family members.
The two marinas offer cradle to grave service to local boaters. Rex Marine starts new boaters off with boating classes and on-the-water training and also offers the Rex Boating Club, Rex Boat Sales and Brokerage, a complete parts department and ship's store, indoor boat storage or dockage and expert service for outboards and stern drives.
Located across the harbor, Norwalk Cove caters to larger boats and transients, offering dockage for over 400 boats ranging from 20 to 150 feet. A full service marina, Norwalk Cove specializes in diesel and gasoline inboard engines, sailboats and associated rigging, marine electronics and systems.
Amenities abound at the marina, and include private showers, restroom and laundry facilities, marina-wide WIFI and cable TV and picnic and BBQ areas. The marina is located across the street from beaches and a dog park, and is within walking distance to town tennis courts. Also close by are South Norwalk restaurants, museums, Metro North Train Station and grocery shopping.
In the wake of the COVID-19 pandemic, social distancing practices are in place, with employees and visitors required to wear masks. Outdoor dining tables have been spread out for all to enjoy a safe and pleasant culinary experience.
More information can be found online http://www.norwalkcove.com/ or by calling 203 838-2326.